In the dynamic world of finance and accounting, staying ahead of the curve is not just a competitive advantage but a necessity. As businesses strive for efficiency, visibility, and flexibility in their financial operations, upgrading to the latest technology becomes a strategic move.
For businesses currently using Infor SunSystems 4, the time has come to embrace progress and transition to the more feature-rich Infor SunSystems 6.4, and, eventually, the advanced Infor SunSystems Cloud.
In this blog post, we will explore the compelling changes that make this upgrade to Software-as-a-Service (SaaS) crucial for the growth and success of your enterprise.
Read more: 5 Signs that Say It's Time For Digital Transformation
Content
1. Cloud Access for Successful Businesses
2. Automatic Updates and Maintenance
3. Fully Web-browser Functions for Enhanced Security
5. Seamless Integration and Compatibility
6. Adaptability and Flexibility
How can you migrate to SunSystems 7 SaaS?

So what are you missing out on with the latest version of Infor SunSystems?
1. Cloud Access for Successful Businesses
Since the 6.4 update, Infor SunSystems has already been packed with several innovative features that have proven to be a breakthrough compared to SunSystems 4.
Both SunSystems 6.4 and SunSystems Cloud versions are integrated with Infor OS – a cloud operating platform that unifies productivity, business processes, and artificial intelligence. Infor OS also hosts Infor CloudSuites, a set of cloud-based, user-friendly enterprise solutions such as CloudSuite Industrial.
Moving your financial management processes to the cloud means benefits in several aspects, such as lower costs and access to cutting-edge technology like AI. To facilitate the seamless transition of businesses to the cloud, Infor, along with its extensive network of channel partners, offers an array of tools, services, and resources throughout the cloud migration procedures.
Switching to SunSystems 6.4 is your first step to completely transforming your business.
2. Automatic Updates and Maintenance
One important reason to upgrade their financial management systems is to avoid software decay. As proficient as the software can be, having no updates over time can eventually slow down your business due to features that do not reflect current technological advancements. This issue not only impacts your business as a whole but might also put businesses at risk regarding legal and regulatory compliance.
Therefore, to ensure that users can maximise their investment in a financial management solution, Infor has implemented a monthly update schedule for SunSystems Cloud to keep users current with the latest features, security enhancements, and regulatory updates.
The automated enhancement enables businesses to focus on their core competencies instead of managing IT infrastructures and still stay up-to-date with the latest software development.
Keeping your business on top of the industry's latest technological practices and upgrading to a more advanced, cloud-based SunSystems can guarantee the sustained success and prosperity of your business in the long run.
Read more: Infor SunSystems Cloud - Your Questions Answered
However, this does not imply that existing customers will no longer receive support. According to Tim Truesdale, Former Director of Global Partner Enablement for Infor Systems, it is important to consider the overall costs in the long run rather than just comparing support costs to new subscription costs. He also highlights the long-term benefits of the cloud, stating that the investment costs will eventually be outweighed by the advantages, especially with the capabilities offered by Infor OS.
3. Fully Web-browser Functions for Enhanced Security
To avoid mistakes in handling data and keep your organisation in sync across platforms, features such as Transfer Desk and Security Console are now fully available online via any common web browser. Whether you want to transfer data internally or externally or control access and permission within the system, you can easily access these features on any device, even while on the go.
Non-technical and accounting staff can also report, extract, or query data using the user-friendly Infor Q&A Excel-like interface. The exciting news is that this accessibility has been further enhanced with the latest version of Infor SunSystems, now allowing seamless web access for even greater convenience.
Additionally, Infor included an impressive interwoven security network that monitors and notifies users when suspicious activities are detected. Data encryption from cloud-based software also prevents further unauthorised data access or breaches.
Businesses are always guaranteed data protection and synchronisation throughout their organisations with SunSystems 6.4 and SunSystems Cloud.
Read more: Automating Reporting in the Financial Services Sector: a Case Study
4. Reliable Data Management
Cloud-based services remove the need for physical infrastructures such as servers and data centres. This practice is not only safer and more reliable but also prepares businesses for sudden downturns. In the long run, enterprises will benefit financially from cutting down on spending on physical infrastructure and maintenance.
Being in the cloud also means businesses can access cloud data storage facilities where users can establish virtual environments and store backups for disaster recovery.
Additionally, by having access to Infor OS, businesses gain the added advantage of accessing Infor Data Fabric, which serves as a data lake within the Infor OS ecosystem. This data lake brings together all data from SunSystems, the Internet of Things, and various other Infor and third-party applications into a single, unified repository.
Infor Data Fabric empowers businesses to efficiently store both structured and non-structured data. Moreover, it offers a plethora of advanced functionalities to process, analyse, and harness data according to their specific requirements. This enables businesses to leverage their data sources and maximise their potential fully.
By upgrading from SunSystems 4 to SunSystems 6.4 and SunSystems Cloud, businesses can enjoy more robust data management in the cloud.
Read more: Data Lake vs. Data Warehouse - What Are the Differences?
5. Seamless Integration and Compatibility
If businesses rely on multiple software solutions for daily operations, compatibility and integration capabilities between these systems become paramount.
Migrating to the cloud opens opportunities for collaboration across disparate systems. As a fundamental step towards Infor SunSystems Cloud, Infor SunSystems 6.4 has been designed to seamlessly integrate with a wide range of Infor solutions and third-party applications and modules available on the market (CRM, PMS, banking, invoices, payroll, etc.).
This is made possible through two notable options:
Through SunSystems Connect, a robust electronic gateway offering seamless online application-to-application interfaces, businesses can link any application compatible with industry-standard XML to Infor SunSystems data functions and components. This powerful integration allows transactions to be posted in real-time, with data validation performed through the business logic held in Infor SunSystems.

Through

Infor Intelligent Open Network (ION)

, a middleware cloud platform and a key component of Infor OS. With ION, businesses can easily upgrade, replace, or handle failures of individual applications without disrupting the entire network. Real-time accessibility to information and simplified system maintenance are among the many benefits of this integration.
This integration eliminates the tedious task of manually exporting, modifying and importing spreadsheets between systems. This compatibility enables businesses to achieve a connected ecosystem, streamlining data flow and reducing manual errors.
6. Adaptability and Flexibility
Infor SunSystems 6.4 and SunSystems Cloud can adapt to multiple changing regulatory environments. Infor has added five configurable currencies for each transaction in these new versions. This ensures your business works seamlessly with the local language, currency, and regulations using the system's built-in global functions and features.
In addition, having more international capability enables businesses to reach a global customer base more easily. With data centres located in different regions, it becomes simpler to provide low-latency services to users across the world.
Depending on your need, you can mould SunSystems to fit your business at various scales and industries. Its flexibility can cater to everything your business needs for success.
Read more: Scaling Your Business With Infor SunSystems Cloud
Below is a summary of the notable distinctions between SunSystems Cloud and its predecessor, SunSystems 6.4, as well as older versions.
How can you migrate to SunSystems 7 SaaS?
Customers using SunSystems 4, SunSystems 6.3, and SunSystems 6.4 can move directly to SunSystems Cloud.
Customers using SunSystems 6.2 must move to SunSystems 6.4 before going to SunSystems Cloud.
Customers using SunSystems 6.1 must move to SunSystems 6.3 before going to SunSystems Cloud.
Customers using SunSystems 5.4 must move to SunSystems 6.2, and then 6.4 before going to SunSystems Cloud.
Customers using SunSystems 5.3 must move to SunSystems 6.1, and then 6.3 before going to SunSystems Cloud.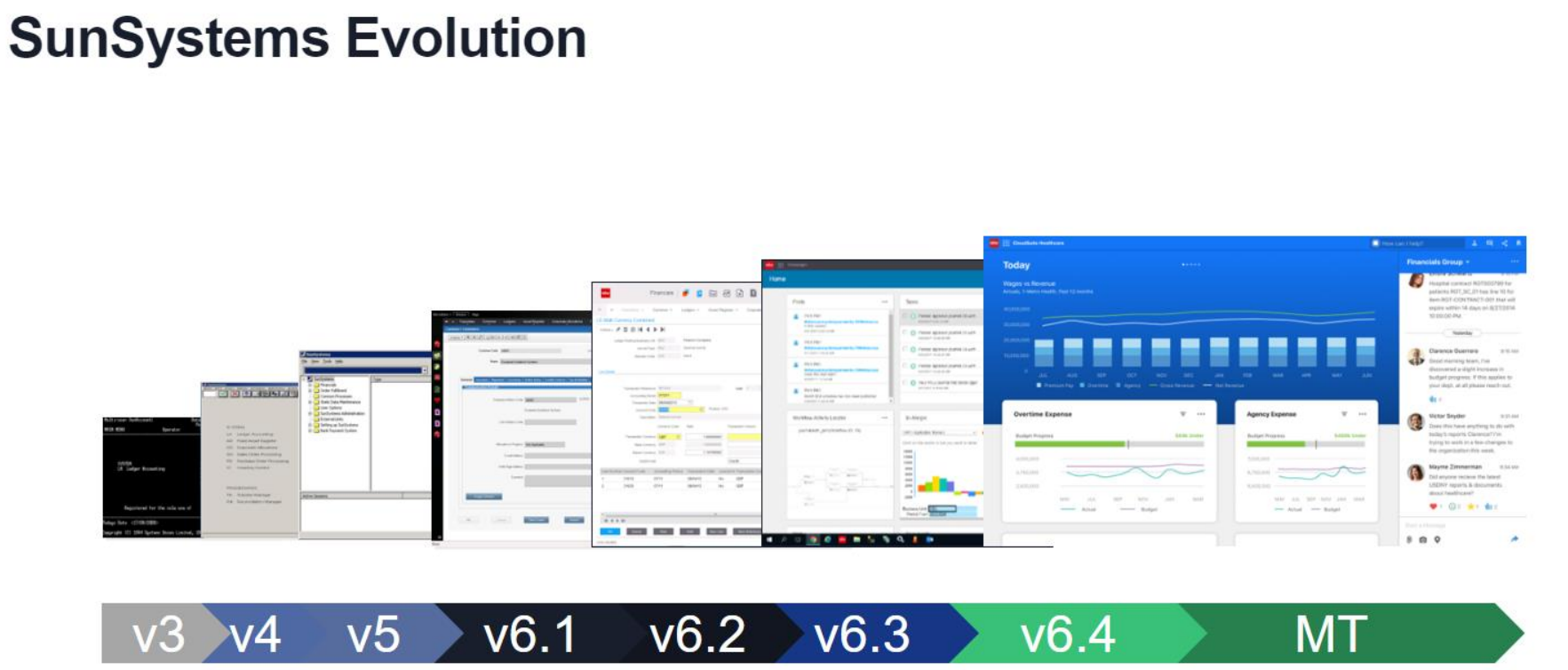 Above are a few reasons why transitioning from Infor SunSystems 4 to Infor SunSystems 6.4 and SunSystems Cloud is essential for enterprises. There is no doubt that this cloud-based solution is the key to leveraging businesses due to its multipurpose functions, which explains why smart CFOs are migrating to the cloud.
TRG International can help your business achieve success in its digital transformation journey. We are proud to be an Infor Gold Channel Partner, offering comprehensive implementation services for all businesses looking for an upgraded financial management system, regardless of size and industry. With impressive customer testimonials and experienced teams, TRG International is dedicated to your success!
Don't miss the opportunity to unlock the full potential of your financial management system—upgrade your Infor SunSystems today!