There is cloud, and there is true cloud. Despite the fact that cloud computing has been around for decades, many so-called cloud enterprise applications were not built for the cloud from the start. So what should businesses expect from genuine cloud solutions? A quick glance at Infor SunSystems Cloud will give you the answer.
Contents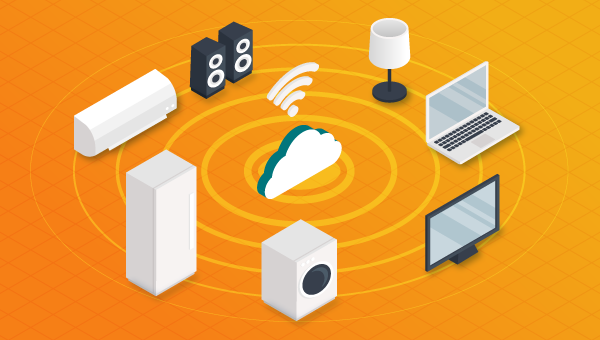 What is Infor SunSystems?
For starters, Infor SunSystems is a comprehensive financial management solution that can empower your finance team to meet today's evolving needs, customer demands, and market challenges. Infor SunSystems is more than just your daily accounting software; it is a smart accounting system.
The solution captures data right at the source, allows you to gain complete visibility into the performance and drill down into more granular details.
Read more: 7 Things to Know About the Newly Launched Infor SunSystems 7 SaaS
Unlike traditional financial systems, SunSystems utilises a unified ledger for all financial transactions; the general ledger, receivables, and payables are combined into a single, integrated set for fast and easy access to information.
Another advantage of a unified ledger system is accelerated reporting now that reconciliation is out of the way and all transactions are posted to the same data set simultaneously.
The solution scales as your business grows. Check out our resource page below for an exhaustive list of all Infor SunSystems capabilities and industries that it serves.
Getting to know Infor SunSystems 6.4
The latest version, SunSystems 6.4, can be integrated with Infor OS, a cloud-based, next-gen operating platform that enables users to tap into a wide array of modern applications aimed at enhancing their productivity through automation.
Built-in applications you can access through Infor OS are:
Social business collaboration platform - Infor Ming.le

Infor OS workflows, alerts, process management

In-context business intelligence tools - Birst
Enterprise data management - Infor Document Management
Intuitive and robust reporting tools - Infor Q&A
Integrate with other Infor or non-Infor products - Infor ION
Virtual assistant at your fingertips - Infor Coleman
Store, extract, and retrieve an endless amount of both structured and unstructured data - Infor Data Lake

And more.
With the 6.4 release, SunSystems users can choose to deploy the system on-premises or as a hosted software in the cloud.
Both options offer a myriad of global capabilities, which can greatly enhance the user's productivity and collaboration. With the hosted software option, i.e., you still own the software, but it is installed via a hosting centre instead of on your servers, all modules and capabilities, including Q&A reporting, are available anytime, anywhere, via a common web browser.
Users can access real-time data and analytics capabilities while communicating with other team members seamlessly via built-in applications in Infor OS, the next-gen operating platform that powers Infor SunSystems and other cloud-based solutions at Infor.
Read more: 7 things you may not have known about Infor SunSystems 6.4
All of these features are about to undergo yet another transformation, all to better serve customers and their businesses. Watch out because here comes Infor SunSystems Cloud.
Overall, SunSystems 6.4 is an innovative solution packed full of powerful capabilities. Nevertheless, just like other hosted software, it still requires involvement from your IT personnel, or your managed service partner, in installing, maintaining, and updating the software.
If you are wondering what cloud computing is in general, check out our knowledge hub here.
Introducing Infor SunSystems Cloud (SunSystems 7/ SunSystems SaaS)
What benefits does this whole SunSystems SaaS/ Multi-tenant cloud have to offer? The most obvious one is cost optimisation, which helped internationally recognised luxury hotel brand Accor in its post-COVID recovery.
Multi-tenancy means a single instance of the software and its supporting infrastructure serves multiple customers. Each customer (or tenant) shares the same software application as well as a single database. Even though several customers share the same database, fret not, your data is completely isolated and invisible to others.
Read more: What is hosted software vs public vs private vs single-tenancy vs multi-tenancy?
The plus side of this model is that the cost for the environment is divided among all customers, allowing smaller businesses to take advantage of modern, innovative software without breaking the bank.
Software updates and maintenance rest entirely in the hand of your vendor, thus freeing up your own IT resources and personnel. Nevertheless, the multi-tenant SaaS approach does have a couple of drawbacks, namely limited customisation and changes to the database might not always be an option.
Additionally, if you do rely on integrations to customise the solution to suit your daily tasks, there may be issues when it comes to application updates. The vendor frees you up from maintenance, so it also means that when the solution is up-to-date, you have to check on your integrations to ensure everything is compatible and will not cause any hitch.
Certainly, SunSystems Cloud offers more than just cost optimisation. The solution guarantees to bring a modern, intuitive experience with minimal training and easy-to-use navigation to help you quickly find relevant information, create real-time queries, or drill down to the source of the transaction.
Let's also not forget about compliance. Compliance is a challenging and downright daunting subject that businesses have no option but to follow diligently.
SunSystems Cloud is constantly updated on changing laws and governance requirements to ensure your business does not get into trouble. As soon as the latest change in regulatory requirements becomes available, updates can be pushed out automatically to the entire organisation, enabling every employee to access the latest information.
Watch our recorded webinar: How to consolidate reports in SunSystems
Check out the table below for a more detailed comparison between SunSystems Cloud and its previous releases.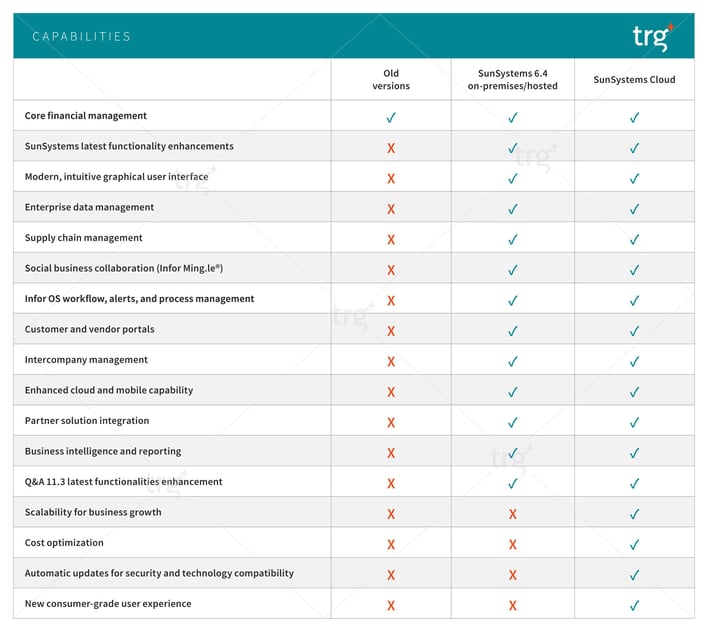 Infor has successfully delivered SunSystems to the cloud, and its core Financials function (encompass Accounting, Corporate Allocations & Intercompany, and Fixed Assets modules), as well as Q&A 12, are also available in the multi-tenant environment. However, the functions are currently in beta phases and available in English only.
According to Infor's roadmap for the solution, more translations are expected to become available by the end of Q4/2021.
Infor will commence fine-tuning the Purchase Management and Banking functions in Q1 of next year along with beta phase 2 for Q&A 12, specifically enabling Office 365 plug-in for browsers. The new and improved Inventory Management, Sales Management, and Electronic Invoicing functions are expected to be rolled out in Q3 of 2022.
Why cloud? Why now?
Moving your financial management system and key business processes to the cloud brings never-before-seen agility to both your teams and your business.
Watch our recorded webinar: Managing fixed assets in SunSystems
The transformation empowers you to react faster to an ever-changing industry and market demands, eliminate silos, facilitate better collaboration, and streamline and automate processes. What's more, all capabilities are delivered through a user-friendly, browser-based interface to ensure quick access to relevant data and undisrupted conversations.
Moving to the cloud also frees up your IT resources, transferring time-consuming tasks like maintaining existing infrastructure into the hands of your vendor or adding a new business unit across the globe without worrying about additional infrastructure costs. This allows teams to focus more on strategic initiatives that can yield growth.
Undoubtedly, the cloud is the main ingredient for workplace flexibility and business continuity. Remember how revolutionary it was for staff to be able to send and receive emails in an instant instead of waiting idly for days or even weeks? Conducting conference calls via the internet is just a simple application of the vast implications that the cloud can bring.
As businesses are eager to transform digitally, why does your business not take advantage of this movement yet?