It was confirmed last month that Koch Industries has acquired the remaining equity in Infor in a deal that will make the New York-based enterprise software company a $13 billion subsidiary of Koch Industries. What does this acquisition mean for Infor and its 68,000 customers worldwide?
Since 2017, Koch had made multiple investments in Infor, each worth billions of dollars, making the industrial conglomerate the owner of more than 70 per cent of Infor's equity.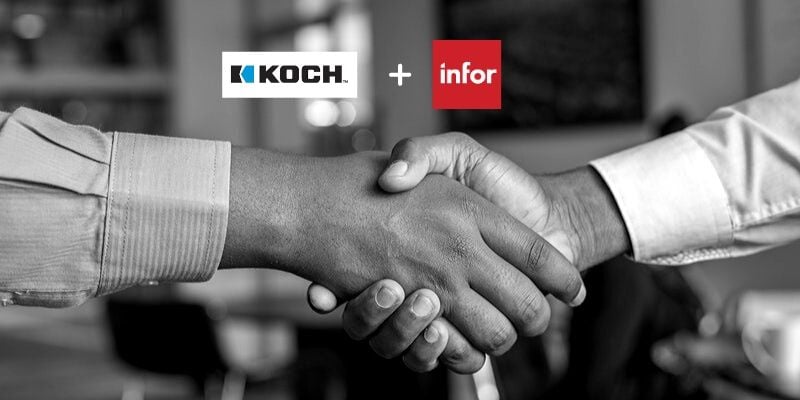 Koch, from being one of the key customers to prime investor to owner
Koch was, and still is, a customer of Infor due to its solutions directly align with some of the industries Koch operates in. In 2017, Koch moved key business processes to the cloud with the implementation of Infor CloudSuite for financial and human capital management.
Infor CloudSuites is Infor's primary product line, which is now widely known as the only fully multi-tenant ERP suite spanning front and back-office applications.
Prior to the acquisition, management teams at both companies discussed an opportunity to co-innovate to develop a true cloud industrial platform.
Koch's past investments in Infor has enabled them to further develop their cloud strategy and product design and development.
According to the research firm IDC, Infor is currently holding 6% of market share, putting it directly in third place after SAP and Oracle. If Infor can maintain a steady revenue, it expects to reach more than 20% annual growth from 5% as of 2018.
Infographic: A comparison of Tier 1 ERP vendors
The acquisition, as viewed by Infor's current CEO Kevin Samuelson, is a positive move that allows the company to operate with guaranteed financial stability.
Koch is a $110 billion+ revenue company that also invests 90% of earnings back into its businesses. Furthermore, with the diverse industries that Koch operates in, Infor is now exposed to endless learning opportunities, resources and relationships which potentially help Infor to enhance its transformative capabilities and to make more acquisitions of its own.
With over $26 billion invested in technology in the past six years, Koch intends to quickly position Infor as one of the most well-capitalised businesses in technology.
Both the senior management and ownership change do not pose as a hurdle to its consistent growth, long-term vision, and steadfast strategy. As a standalone subsidiary, besides having to work harder, Infor assures its existing and new buyers that the company's direction will remain unchanged.
The future of Infor's solutions
The majority of Infor's customer base is still using legacy industry applications. Since the early days, Infor set out to pursue vertical-specific ERP solutions to minimise the need for customisations. With the complexity of each vertical, persuading each client to move from A to B requires more preparation than just effort.
Read more: Should your ERP system be vertical-specific?
Infor's CEO Samuelson has proclaimed to the press, customers as well as the Infor's channel partners to focus on customer success.
In an interview with Diginomica, Samuelson explained: "I think, to be very explicit, if our products are not either generating more revenue or more profit for our customers in some way, they're not succeeding. In its most simplest form."
So, instead of talking up to every customer to move to the cloud, Infor takes a more targeted approach in which it targets specific customers using legacy, on-premise systems that have some functionality requirements that fit into the multi-tenant suite. In the past few years, Infor has developed tools and integration solutions to aid customers on different platforms to migrate.
On top of that, Infor assures that it will not end support for its on-premise customers. The company focuses on more long-term goals, where it tries to have conversations and raises awareness on the future of enterprise applications. Infor understands that it needs to play a central role in guiding customers and helping them strengthen their capabilities.
Interestingly, Samuelson commented that the cloud-based manufacturing ERP is the company's fastest-growing area with over 100% growth year on year. Manufacturers have always been one of the stubborn targets to convince.
Read more: ERP for manufacturers – The Russell Roof Tiles case
Infor's revolution
Infor is a New York-based company that specialises in providing industry-specific software. Its key industries include manufacturing, public sector, health care, retail, and hospitality.
Infor CloudSuite is its fastest-growing product line. The company also prioritises software-as-a-service solutions, which allows customers to deploy software over the cloud instead of installing and maintaining their own physical data centres.
Read more: How data is protected in Infor CloudSuite with these 5 security layers
When Charles Phillips joined Infor in 2010 as CEO, the company already established an impressive customer base but lacked innovation in its technology and IT base. For years, Infor had been idly living its Infor 1.0 era.
Phillips brought Infor into a new phase. Infor 2.0 began with recreating Infor industry apps, which marked the birth of many of its astounding innovations, such as the Infor OS, the partnership with AWS, stunning user interfaces, and more.
Through constant development, Infor introduced Infor Coleman AI and scored a strategic acquisition of a new cloud BI platform Birst and the global trade and supply chain management platform GT Nexus.
Infor 3.0 era places people at the centre of business systems and defines the future of work, focuses on enabling people to be more productive.
"It's forgotten that it's people using these systems and they're making decisions. If you optimise around them, all the other systems should be serving them to make them better at their job," said Charles Phillips in one of his keynote presentations in 2019.
This goal remains one of the top priorities of Samuelson when he takes over the CEO position, and Phillips becomes Infor's Chairman. Samuelson added to the objective to focus more on customer success and outcomes.
Stay up-to-date with the latest technology news by subscribing to TRG Blog today!