There are reasons why Infor SunSystems is the chosen financial management solution of more than 2,200 hospitality companies worldwide. The system is designed to transform the way you collect, analyse, manage, and report financial information. More important, it can help your hotel business drive the bottom line and improve guest experience through timely and actionable insights.
Why Infor SunSystems is the best accounting software for hospitality businesses
Infor SunSystems is an accounting software solution deployable on-premise or in the cloud, or a combination of the two. With its flexible chart of accounts, Infor SunSystems lets you automate a wide range of operating or ownership structures, including franchising, fractional ownership, global business units as well as other holding structures. 
Read more: 5 compelling reasons why you need a cloud accounting system today
Whether you are an independent, boutique hotel or a part of a multinational brand, Infor SunSystems' industry-specific functionalities and advanced capabilities can satisfy your every need.
1. Analysis
Infor SunSystems Hospitality helps you promote quality, consistent data throughout your organisation in addition to enabling you to stay on top of key performance metrics, identify trends, uncover problems, and grasp opportunities.
You will get predefined charts of accounts that stick to hotel structures and reporting lines such as Departments, Segmentations, Meal Periods, and Events.
You can view accounting and finance information by locations, regions, or other dimensions you use to measure performance. Or take your analysis to the next level by combining SunSystems with Infor Query and Analysis, an intuitive, easy-to-use operational business intelligence tool that allows you to obtain greater insights.
Infor SunSystems also has built-in alerts to help you highlight trends and define exceptions within the process. Therefore, you will have more control over the situation and react quicker if issues do arise.
Read more: Must-haves of Accounting Software for Financial Services Firms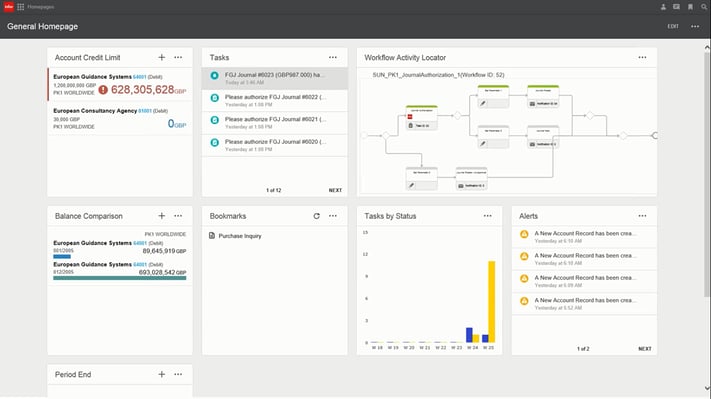 2. Reporting
Infor SunSystems Hospitality indulges hotel users with pre-built report templates covering every need – daily revenues, KPIs, flash reports, management reports, and statutory reports.
SunSystems also allows you to quickly create and design reports that suit your specific needs based on a single data source. 
Its intuitive toolset makes it easy to gain control over your financial information while role-based dashboards enable you to pinpoint critical insights and trends instantly.
Read more: Differences between reporting and business intelligence in hotel management
Infor SunSystems Hospitality supports multi-currency and multi-language. The solution also offers a dual-base system, different exchange rate sets, and up to five reporting currencies per transaction. Therefore, you can operate with ease in any country. What's more, SunSystems delivers role-based, in-context data directly to your desktop or your mobile devices, allowing you to manage work while on the go.
Additionally, the solution allows you to create multi-layered reports to deliver information to specific stakeholders, such as hotel owners, franchise operators, managers, employees, and more.
3. Integration and Compliance
Infor SunSystems can interface easily with other critical hotel systems, either from Infor or other third-party vendors, including PMS (Opera, Infor HMS, Starlight, Epitome, Medallion, etc.,) F&B (Check SCM, Material Control), POS (Micros, Squirrel, PixelPoint, etc.,) and enterprise performance management (Infor d/EPM, Hyperion.)
Hospitality is among the most globalised industries in the world. As such, Infor SunSystems is built with compliance in mind. The system complies with not only multiple accounting standards – IFRS, IAS, US GAAP, and local standards – but also industry standards such as USALI 11.
The solution complies with all accounting standards from the Euro and GAAP Compliance to IFRS. You can operate with confidence and always meet statutory requirements.
The network of solution support partners spreads worldwide, who all have an in-depth knowledge of industry requirements, system technicality, and the local legislation and cultures to answer every single one of your concerns.
The recent releases of Infor SunSystems (version 6.3 and 6.4) support 31 different languages within the same installation to support users of different nationalities.
Read more: Managed IT services – What hoteliers need to know
4. Scalability and Mobility
From the get-go, Infor SunSystems is designed to scale and adapt to quick changes. The solution can meet the needs of a single hotel or support a global hotel chain with multiple hotels with equal prowess.
The system can run on mobile devices, allowing you to access and analyse your business data in real time, on the move, either at an airport or in a board meeting. You get anytime/ anywhere self-service reporting and can increase the speed of your overall business via a secure, easy-to-use mobile portal.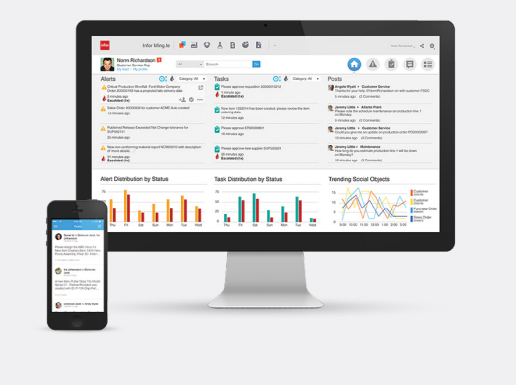 5. Consolidation
Multi-location and multi-entity businesses face the undeniably tough challenge of unifying multiple financial data sets and reports while having to comply with various local statutory requirements.
The consolidation process can take anywhere from weeks to months to complete consolidating data. It is a time-consuming and error-prone procedure, which, unfortunately, many organisations still choose to do manually.
With Infor SunSystems, information is stored centrally and can be fully integrated at any point in time. This enables your accounting staff at the parent company (or at the branch) to take full advantage of all the data with just a few mouse clicks.
It is no longer necessary to send information back and forth via email. Your staff now possesses the ability to drill down into any piece of data; visibility and transparency are significantly increased. Thus, you can save tremendous time and effort on consolidation.
Infor SunSystems also has a built-in social collaboration platform (Infor Ming.le) and documentation tools (Infor Document Management) that allows you and your staff to communicate cross-function or multi-site with ease and documents or files are centrally accessible at the fingertips.
Are you ready to take the next action?
Infor SunSystems Hospitality's capabilities reach far beyond the finance department. The system empowers your entire hotel business to make accurate business decisions using the right insights at the right time. Nevertheless, as with any enterprise software solution, the real challenge lies in the deployment. Even the best software cannot salvage an implementation project gone wrong.
This is why choosing the right Infor SunSystems vendor is crucial. TRG International is a market-leading hospitality solution provider with more than 25 years of implementing Infor SunSystems to 1,000-plus clients around the world.
We are also among the very first service providers to introduce Infor SunSystems 6.4 - the most innovative version yet. Infor SunSystems 6.4 is packed full of more advanced capabilities and modules that can help you to enhance your accounting team's productivity as well as transform your business digitally.
To witness Infor SunSystems in action or to learn more about the solution in general, click the request a demo button below.